Holistic development of consciousness
Stephanie Zimmermann
M. Sc. Psychologist UASZ
Psychology
Understanding behavior & experience
Philosophy
Exploring purpose & meaning
Spirituality
Expanding perception & consciousness
MY VALUES
"We can learn to see life in a new way."
During my impulse talks, I connect aspects of psychology, philosophy and spirituality in creative ways. Humans are complex, holistic beings. Personal issues and questions require an approach that address all of our senses and equally involve mind body and soul. When all three axes resonate with each other, we can experience inner harmony, enjoy life and find meaning.
"Every moment life reminds us of ourselves."
The combination of psychological, philosophical and spiritual elements permits exploration of the depths of one's own thoughts, actions and feelings. The interplay of these dimensions allows recognition of personal experience and the foundation of meaning and reason in one's life, as well as the development of consciousness for what connects oneself and the world at its core.
"We find the answers of nature in life itself."
With the aid of pictures, metaphors and visualizations, I create consciousness for experienced patterns and dynamics. By incorporating symbols from nature and drawing parallels in human lives, I develop understanding for higher order connections and sensitize for a holistic perspective on life.
"What we see within makes its way without.
What develops in an individual makes its way into the collective."
In my consultations, I foster a comprehensive personal confrontation of values and accompany the development of emotion regulation skills. Existing convictions and beliefs may be questioned and new, helpful points of view created. Through the realization of what desires, needs and fears originate our behavior, a conscientious, constructive method of dealing with emotions can be learned and step for step new personal responsibility can be found. Development and growth of equilibrium, meaning and connectedness are encouraged through this. Authentic inward humanity as well as socially sustainable coexistence flourish on a foundation of these principles.
"Internal awareness creates outer awareness.
Internal coherence creates outer coherence.
Inner peace creates outer peace."
The term spirituality originates from the Latin spiritus, meaning spirit and is therefore a term for everything beyond the material and mundane world. By spirituality I am not referring to and specific religious faith, but rather a personal receptivity for reason and meaning facilitating values, as well as feeling of inner and outer connectedness. Inner connection comes about when we know ourselves well and function in unison with our deepest core. Outer connection occurs when we see ourselves as a meaningful part of a greater whole.
"We can always only encounter ourselves."
For me being spiritual means having an open mindset, set on harmony and inclusion. It means having faith in life, regarding the rhythms and cycles of nature and making decisions based on one's own inner knowledge. In my opinion lived spirituality is a basic attitude of freedom, never dependance. It stands for personal development and therefore self-realization, personal responsibility, self-determination and self-actualization.
coaching services
· Discovering happiness · Feeling at ease · Increasing liveliness ·
· Gathering strength · Gaining trust · Creating courage ·
· Expanding horizons · Developing authenticity · Experiencing clarity ·
· Perceiving beauty · Finding purpose · Understanding life ·
inspirational talks
focusing on
inspiration
To experience novelty and expand one's horizons, it is critical to receive new, multifaceted and engaging impulses from elsewhere.
Do you wish for more variety and diversity in your life? Are you striving for change and personal development?
Room to think and creative impulses help to expand, illuminate and realign viewpoints.
I will inspire you to see the existing beauty in life and to shape your own way with optimism, enjoyment and initiative.
Together we explore your issues, desires and perspectives with ease and vitality. We dare to think outside the box, create dynamic opportunities and expand your field of agency.
You can believe anything.
You can attempt new things.
You can create visions.
You can shape your future.
You can make yourself a new reality.
You can grow beyond yourself.
&
intuition
To find a fitting path to feeling alive, fulfilled and content, it is worth it to take a moment to listen to your inner voice.
Do you no longer feel your direction? Are you anxious, dissatisfied or do you wish to be more grounded in life?
An honest discourse with one's self aids in perceiving personal needs and become closer to one's self.
I support you in strengthening your self-awareness and finding access to your authentic energy and individuality.
Together we discover where fulfillment lies for you, where you feel resonance and what direction you want to take in the future. We create clarity and find ways to better understand, empower and trust yourself.
You can listen to your feelings.
You can trust your intuition.
You can discover your strength.
You can give your passion the space it needs.
You can live through your uniqueness.
You can be yourself.
On site
Zwinglistrasse 8, 8004 Zurich
Online
Videocall over Zoom
3 languages
English, German, Spanish
methods
Conversation and life reviews
Thought, emotion and consciousness exercises
Intuition training and meditation
Mindfulness and relaxation techniques
Movement and dance
Mental travel and imagination
Creative improvisation
Humor
i work with the effects of
Images
Colors
Symbols
Visualizations
Natural materials
Stephanie Zimmermann
M. Sc. Psychologist UASZ
Developmental and personality psychology

Who I am and my way of thinking
"We can choose internal livelihood anytime."
I was born in 1990 and grew up in Canton Bern in Switzerland. As a sensitive child and youth, I was interested in people's emotional experience and the underlying connectivity of life. After an education in business, several years in various fields of work and numerous foreign travels lasting months, I decided to study psychology at age 24. Already before and during my studies, I concerned myself intensely with mind-body connections, thought-, emotion- and consciousness training as well as parapsychological phenomena. In my master's thesis I focused on the role of intuition in the psychological consultation process. With ART OF PSYCHOLOGY I am realizing my vision of connection holistic personal development and creativity.
I am convinced that our emotional health is the definitive key to a sustainable and peaceful coexistence in the future. Emotional health, in my opinion, is based on largely on experiencing connectedness. In order to fundamentally experience connectedness, one often must confront questions about one's own existence and the meaning and directionality of life.
"Who am I and what do I want? How am I meant to be as a human being? What do my thoughts, actions and feelings have to do with my present life? What really counts for me? Am I living life like my heart desires? Do I feel joy, lightness and liveliness?"
We can turn to ourselves and help ourselves find personal answers to our fundamental questions of life. We can recognize that the way we are at our core is our chance at love and peace.
"We are who create our own world. From top to bottom. Inwards as outwards. With our thoughts, our words and our deeds. We are who creates our own world. Always. At every point in time. Let us see the good. Let us recognize the opportunity. It's in our hands. Everyday."
I wish you courage for your own unique path.
I wish you confidence in yourself and your inner voice.
I wish you love and for you to see yourself in it.
Here. Now. In every moment.
Stephanie Zimmermann

Education
Psychosynthesis and Holistic Cure
AEON, Basel/Switzerland, 2021-2022
Tantric & Shamanic Arts
Mahara McKay, Brigels/Switzerland, 2021
Feminine Embodiment & Emotional Release
Mahara McKay, Zurich/Switzerland, 2021
Visual communication: Picture language in the coaching process
HF FST Interlaken, Bern/Switzerland, 2020
Improvisational theater: Applied improvisation meets psychology
Improaktiv, Zurich/Switzerland, 2019
Ego State Therapy Conference
Milton Erickson Institute Rottweil, Heidelberg/Germany, 2018
Master of Science in Applied Psychology
University of Applied Sciences Zurich, Zurich/Switzerland, 2018-2020
Bachelor of Science in Applied Psychology
University of Applied Sciences Zurich, Zurich/Switzerland, 2014-2017
Degree in Business Administration
Business School Schadau, Thun/Switzerland, 2005-2009

Professional experience
Personality and consciousness development
Organisational development and assessment
Preventative healthcare
Private sector
Cantonal administration
International social efforts
Social work integration
Vocational training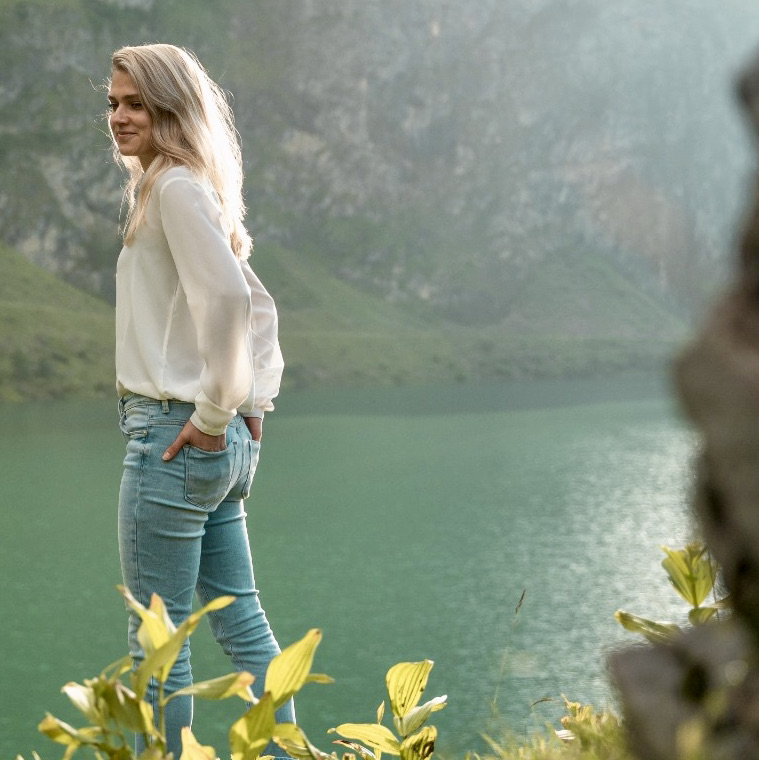 inspirations
My quotes
· seed of love ·
may we plant the seed of love.
may we understand that peace is born inside of us.
may we embody the change we want to see.
may we find meaning in our voice within.

may we listen to the sounds of nature.
may we care for what's invisible to the eye.
may we speak with an open heart.
may we know our reasons why.

may our hearts be our guiding light.
may we see through each others pain.
may we be wise enough to unite our strength.
may we walk hand in hand.

may we connect ourselves with the whole.
may we believe in our visions.
may our souls be filled with joy.
may we light our inner fire.

may we share the best we have to give.
may we empower each other along the way.
may we reach out to the stars above.
may we touch the sky.

may we trust in the path that lies ahead.
may we make ourselves count.
may we make it happen.
may we plant the seed of love.
Terms and conditions
I charge an hourly rate (60 minutes) of CHF 140.
All information will be treated as confidential.
The costs of the impulse talks will not be covered by health insurance.
Personal appointments can be postponed or cancelled until 24 hours before the arranged time free of charge. Shorter notice cancellations and non-appearances without notice will be charged the full rate.
In cases of tight financial circumstances the rates may be adjusted upon consultation.
No liability is assumed for the contents of this website.